As a mom of seven, I am often grateful and ecstatic to test out the newest kid's products. Though it is rare that one really impresses me with design and quality. I found just that and more when Chillafish introduced my home to the BMXie during the MPMHGG.
The BMXie balance bike from Chillafish is the perfect first bike for preschoolers. With a BMX-styled bicycle frame and oversized tubing, kids can ride in style as they master their balance and coordination skills without having to worry about pedals. The bike features an adjustable seat and removable footrest (no tools required!). Made for ages 2-5 years old, BMXie comes in 5 colors: red, blue, lime, pink and yellow.
The BMXie balance bike doesn't compromise! Those words have become extremely important in the bike world especially for parents whom are buying their child's first bike or continuing on the no petal track.
Be prepared to have to put a few pieces together upon opening the box. Everything included the only tool you need to create this product is included in the box. One of the things you will notice right away is the weight and beauty of BMXie parts. Everything is smooth and precise. Even the lime green stands to attention against the black and white color pallet.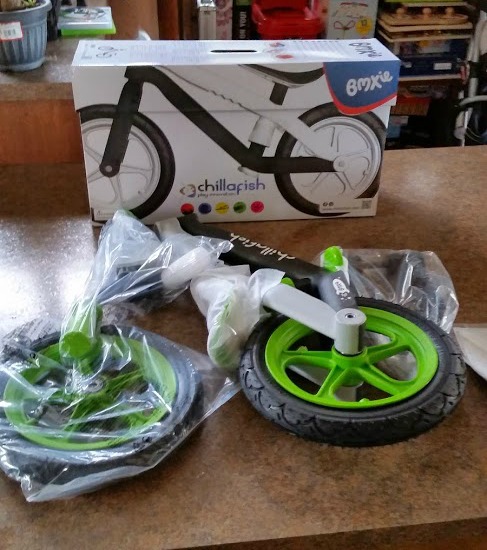 The BMXie comes with a real BMX-styled bicycle frame providing the same look and feel as big brother's bike. The thoughtful design gives meaning to the statement from Chillafish, "the coolest balance bike in the world." In fact my older son has even said that Low's new ride is way cooler than the bike he is sporting now and has demanded a redo for the holiday season.
The tire tread is really something you can be in awe of. This gives the impression of an all terrain bike. While it is pretty cold in the Midwest, I cannot wait to get the Chillafish BMXie out to the hillside this spring.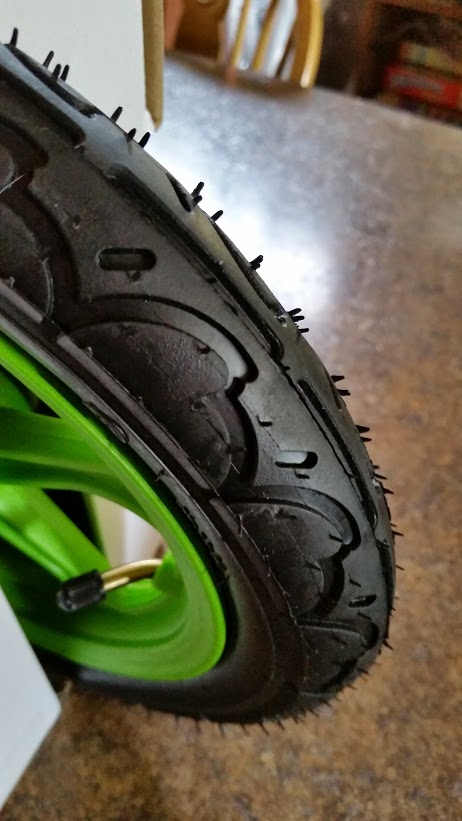 The unit sports oversized tubing that is extremely lightweight. Even my four year old son can carry the BMXie around with ease. That is a nice benefit when they are still in the learning to ride stage and for those parents who teach their children to cleanup after themselves after playtime.
The large grip on the handle bars is one of my favorite features. These are ideally sizes for little hands to fit perfectly around. This helps keep them steady when turning and in playmode.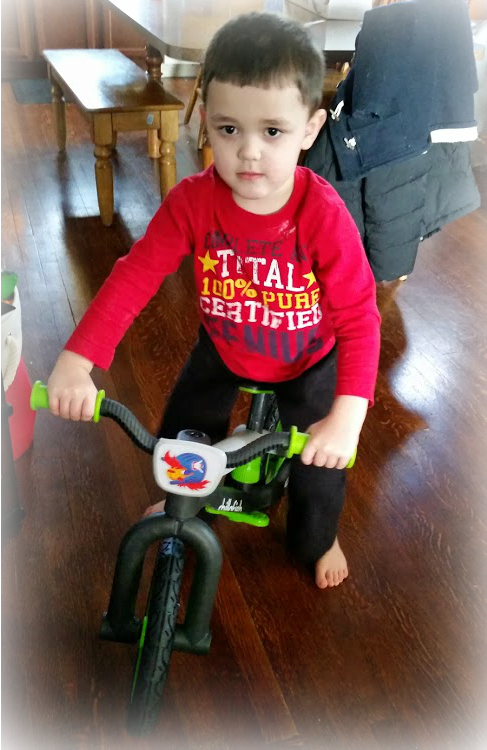 The seat is thoughtfully, adjustable seat and requires now tools to move. BMXie even has a removable footrest for those youngsters that prefer not to have one in the way. The size also seems appropriate for 2-5 year old crowd.
The BMX design process continues to shine through with a detachable front number plate. The box contains size stickers for you to select from? I suggest saving them as well. So in the event the one on the bike becomes damaged, you can replace it with a new sticker.
All in all when considering your child's first bike or perhaps even a new one, I definitely suggest giving Chillafish's balance bike line a look.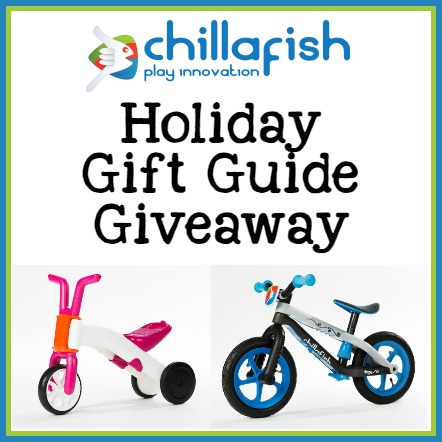 One winner will receive a Bunzi and an additional winner will receive a BMXie.
Giveaway ends December 1st at 11:59pm, open to US residents, ages 18+. Only one entrant per household, per address. Winner is subject to eligibility verification. Enter using the giveaway form below. Good luck!
Disclosure: All opinions seen in this publication are those of the writer and may differ from your own. For questions or to have your product featured on Mom Powered Media, email Teri at teri@mompoweredmedia.com.