Do you have trouble falling asleep and staying asleep? Are allergies getting in the way of giving   you restful sleep? If so, you are in luck! The makers of Pure Crafted Beds have an innovative technology in each of their mattress' called EcoShield. It protects against pesky allergen  producing bed bugs, dust mites, mosquitoes, and moths, giving you a pure night's sleep.
So join us as we strike up a conversation with the knowledge folks at Pure Crafted Beds to discuss allergies, and other things that can affect our nighttime rest. We spend a big portion of our life in bed, so why not #FallAsleepPure?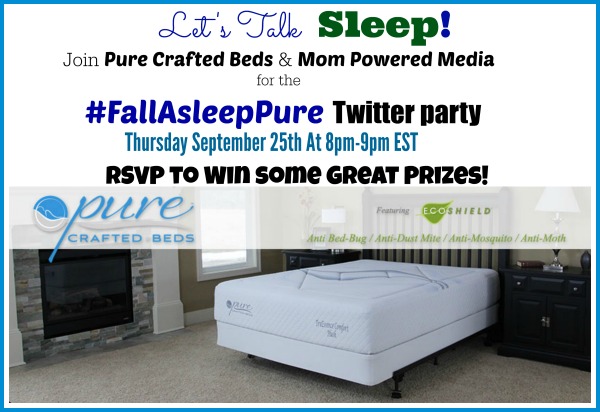 Where: Twitter.
When: Thursday, September 25 8pm-9pm EST
Hashtag: #FallAsleepPure
Who to Follow: @PureCraftedbeds, @Mom Powered Media, @Conservamome, @Mamasmission, @MomToBedBy8
Prizes:
• Grand Prize: $100 Amazon Gift Card
• Additional Prizes: Four $25 Amazon Gift Cards
• Pre-Event Tweet Prize: $25 Amazon Gift Card
CLICK HERE TO TWEET the twitter party announcement for a chance to win a $25 Amazon Gift Card!
Rules: You must RSVP, follow @PureCraftedbeds on Twitter and attend the #FallAsleepPure Twitter Party to be eligible to win!.
Example for RSVP form below:
Name: Twitter Handle (@conservamome)
Website: Twitter URL (https://twitter.com/ConservamomE)
Email: email address (example@123.com)