MyRealGames Winds Up 2015 with Top 10 Countdown of Most Downloaded Titles
As America's number one platform for FREE game downloads, MyRealGames has its finger on the pulse of the most popular titles on the planet. To celebrate the end of 2015, the site has released a countdown of this year's most popular games. Exciting, action packed and characteristically diverse, the countdown features 10 terrific titles. From Match 3, Shooting and Arcade to Kids, Cars and Cards, the countdown caters for every gamer.
"We've had a hugely successful year, welcoming legions of new MyRealGames fans, as well as introducing a plethora of exciting new titles. On the cusp of 2016, we're celebrating a fantastic 12 months by releasing a countdown of the most popular titles that had gamers hooked," says Nikolai Veselov from MyRealGames.
For those craving adventure, Around the World in 80 Days takes players on a whirlwind journey to four continents and 81 levels. With an outstanding storyline, beautiful animation and challenging puzzles, it's a marvellous adaptation of the Jules Verne Victorian travelogue.
Players caught up in the Star Wars excitement will fall cloak over light saber for Space Bubbles and its 200 levels of intergalactic exploration. As a blend of Match 3, Puzzle and Kids, Amazon Adventure sees gamers plunge into the depths of the jungle. A must download title for all Zuma/Luxor fans.
History buffs won't be able to drag themselves away from The Rise of Atlantis, a brain bending Match 3/Puzzle game that calls on players to restore the honour and might of the legendary continent of Atlantis.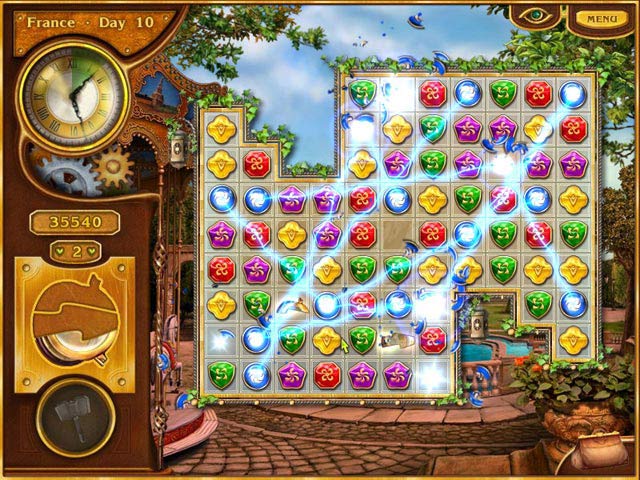 Dazzling and dangerous, Jewel Quest II takes players on the ultimate jewel matching adventure across the world's richest continent. With authentic African settings, gorgeous graphics and safari animals galore, it's definitely one for thrill-seeking gamers.
As a fast paced shooter, Supercow is a kid friendly title that takes on the evil professor Duriarti in an effort to save the kidnapped residents of Sunny Valley. Those with a need for speed will love Nuclear Bike, a turbocharged Arcade title that's packed full of breathtaking gameplay and amazing physics.
Jewel Quest is another hugely popular 2015 title, taking players into the midst of ancient Mayan ruins to discover hidden treasures and priceless artefacts. Fishdom 3 is action packed, with colourful gameplay and plenty of 3D fun. Players in search of something a little more serious will enjoy the sharp graphics of Billiard Masters, a US 8-ball pool game featuring an advanced 3D aerial view of the table.
In 2016, MyRealGames fans can expect to see even more titles added to the ever expanding inventory of titles.
To find out more about MyRealGames, download the top 10 titles and browse the huge range of additional games currently available on the platform, visit http://www.myrealgames.com. No registration is required.