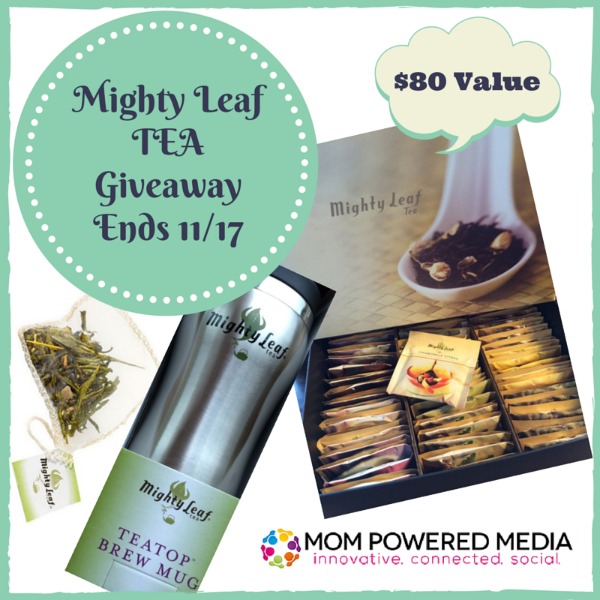 This is for you tea lovers! Have you ever wanted to sample what loose leaf tea tastes like but have the tea provided in pouches you can steep? Well look no further than Mighty Leaf Tea.
Mighty Leaf Tea began in 1996 as a result of a shared passion and dream envisioned by husband-and-wife team Gary Shinner and Jill Portman.
Their passion is for creating the most incredible handcrafted tea blends found anywhere, globally sourcing the finest ingredients available. Paralleling the highest standards of quality at Mighty Leaf Tea is ongoing creative innovation.
Mighty Leaf Tea is offering to one lucky reader the Mighty Leaf Master Tea Pouch Sampler and a Tea Top Brew Mug so you can experience what really great tea is like.
About the Prizes:
Mighty Leaf Master Tea Pouch Sampler

The perfect gift for any tea aficionado, this assortment of 108 Tea Pouches wraps our best selling and most unique teas in a luxurious gift box.
WHAT'S INSIDE:
Black Tea – Organic Darjeeling Estate (10), Organic Earl Grey (10), Orange Dulce (10)
Green & White Tea – Green Tea Tropical (9), Organic Spring Jasmine (10), Organic Hojicha Green Tea (10), White Orchard (10)
Herbal Infusions – Organic African Nectar (10), Organic Detox Infusion (10), Chamomile Citrus (9), Organic Mint Mélange (10)
Our insulated "traveling tea pot" is perfect for enjoying Mighty Leaf whole leaf tea on the go. Say goodbye to over-steeping! Pull the string through the patented lid and your tea pouch is in a special holding area, away from your tea.
Mighty Leaf Tea Giveaway
Sponsor: Mighty Leaf Tea
Organized by: Mom Powered Media
Giveaway is Open to U.S. residents. Giveaway ends 11/17/2014 at 11:59 PM EST
For your chance to win, enter on the Rafflecopter Below:
Disclosure: All opinions seen in this publication are those of the writer and may differ from your own. For questions or to have your product featured on Mom to Bed by 8, email Teri at teri@mompoweredmedia.com.