The Kyocera 8″ Professional Chef's Knife is a recent addition to the wonderful Kyocera ceramic knives line and we were so thrilled to test one in the kitchen for review. Most of their knives had 5 1/2″ or 6″ blades, this new ceramic chef's knife has a larger blade and is a more typical size used by most people.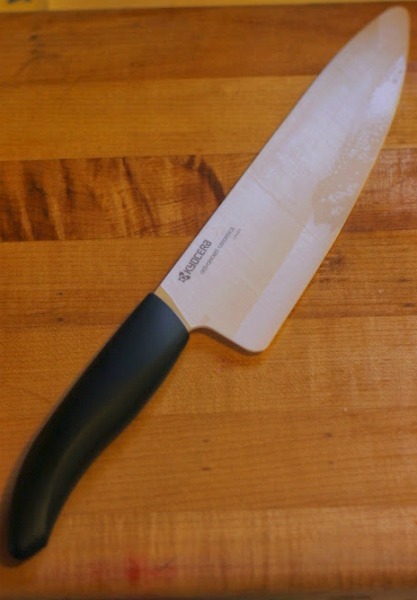 The Kyocera ceramic chef's knife is available in a white or black blade, this is the white blade version. Kyocera ceramic knives are a terrific alternative to metal knives, especially for those who don't sharpen their knives. This ceramic knife blade is close to a diamond in hardness, so the blade holds its sharpness for a very long time, at least 10 times longer than a traditional blade. Ceramic is also pure and doesn't react with acid, lettuce and other foods, nor will it rust. The knife is also lighter than a metal equivalent, so during long cutting tasks there is less fatigue. Ceramic knives are great for slicing and chopping fruits, vegetables and boneless meats. A ceramic knife is not recommended for cutting hard foods, carving, prying, flexing scraping or boning.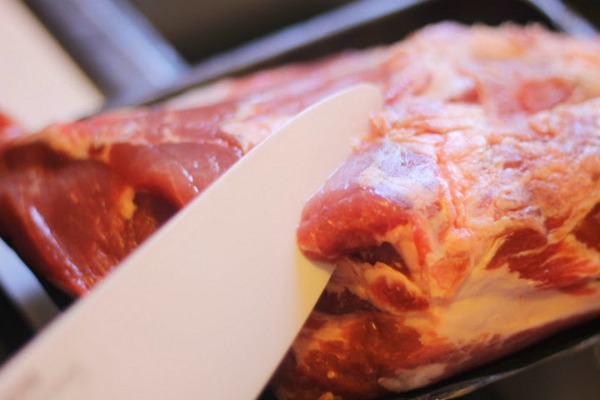 I am a serious foodie, and so I literally spend most of my days; chopping, slicing, dicing, shredding, sautéing, reducing and so on. I have a couple of key items in my kitchen that get a workout more than once a day, every day- a great kitchen knife being one of them. From breakfast to dinner I have a collection of knives to be used for everything from toast to roasts. I have to say I was skeptical when I opened this knife it appeared to be plastic and I did not think it would cut well. Thankfully, I was mistaken, I have found my new favorite knife and not only is the knife made from ceramic, it is also surprisingly sharp.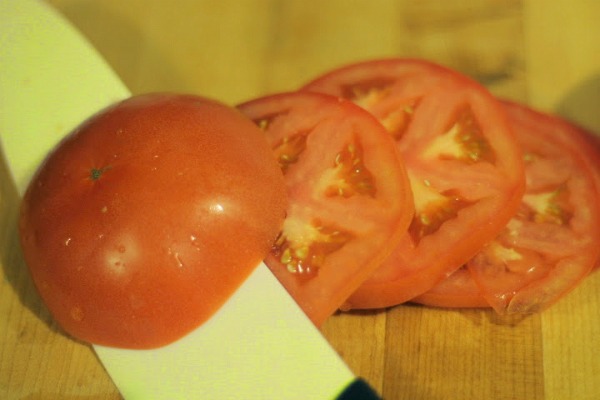 The first thing I noticed after I picked up this knife was how light and comfortable it was in my grip. I tried cutting bread, usually you cut bread with a serrated edge knife as a straight edge knife will crush it, but this knife sliced right through it beautifully.  I thinly sliced tomatoes and it was like cutting through hot butter.  Dinner time rolled around and my husband grabbed it to give it a try, he cut fat off a big pork roast- again the blade required very little pressure to get it to slide right through the meat (they do not recommend this knife for carving, especially around bone). Chopping onions? Fast and easy, like cutting with a razor blade.
I would definitely recommend this knife if you are looking for a good all around kitchen knife.  One that can be used for more than one purpose, cuts like a razor blade, is light and comfortable in your hand, wipes clean, and will not rust.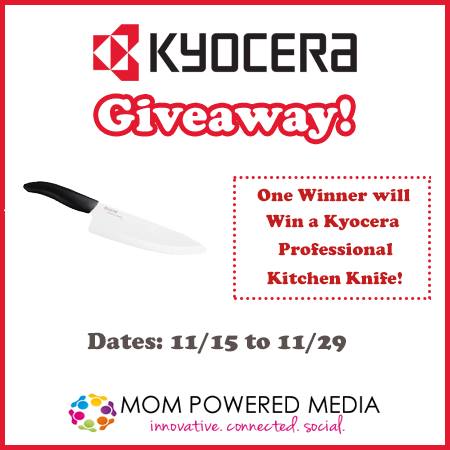 One winner will receive a Kyocera 8″ Professional Chef's Knife.
Giveaway ends November 29th at 11:59pm, open to US residents, ages 18+. Only one entrant per household, per address. Winner is subject to eligibility verification. Enter using the giveaway form below. Good luck!