About the Company:
Two dads founded YumEarth out of their commitment for their families to eat delicious healthful foods free of high fructose corn syrup and artificial dyes. They began making Organic Candies with real fruit extracts and planet friendly ingredients grown on sustainable family farms to sweeten their products. Now we can have healthy flavorful Organic Candies from YumEarth! YumEarth treats are made with all-natural ingredients, no artificial colors or artificial dyes, no gluten, no peanuts, and no tree-nuts. YumEarth organic lollipops and organic drops are kosher parve as well. The following graph shows just about everything you may have a question on: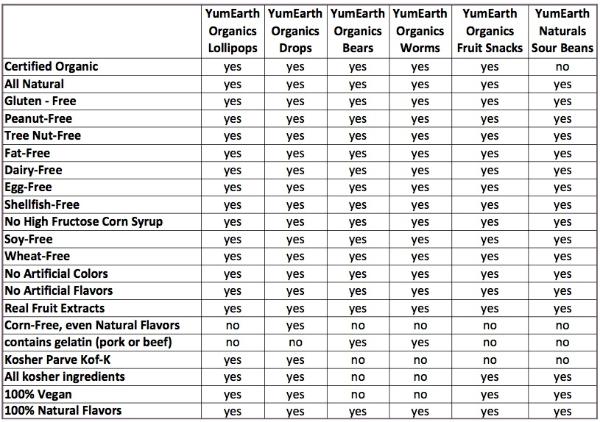 $100 YumEarth Organic Candy Giveaway for 2 Winners:
YumEarth is giving away TWO (2) $100 Organic Candy Gift Packs! Contents of Gift Packs may be different than the items shown in photo. This Giveaway is open to US only and ends October 27, 2014 at 11:59PM. For your chance to win one of TWO YumEarth $100 Gift Packs enter on the Rafflecopter below:
Disclosure: All opinions seen in this publication are those of the writer and may differ from your own. MomPoweredMedia.com may have receive product or payment as a condition of this publication. For questions or to have your product featured, email teri@mompoweredmedia.com.