TIGGLY LAUNCHES ITS FIRST LITERACY SYSTEM AND ANNOUNCES NATIONWIDE EXPANSION TO TARGET
Along with new product launch, Tiggly onboards new retailers bringing the number of stores that Tiggly products are available in to 1,585 retailers throughout US and Canada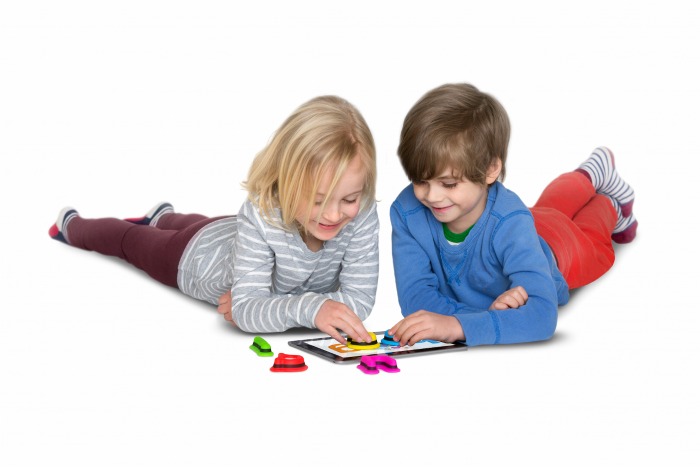 New York, NY — Today, Tiggly (www.tiggly.com), makers of the educator-designed, learning platform consisting of tablet toys for children, announces the launch of their third learning system, Tiggly Words. Tiggly's previous products, Tiggly Shapes and Tiggly Math, pioneered a new play experience combining the best aspects of physical and digital play to offer an optimal learning experience for children. To coincide with the launch of Tiggly Words, Tiggly is also expanding the sale of its products throughout the United States and Canada reaching 1,585 retail locations with new distribution in Target and Best Buy Canada stores. Tiggly products can continue to be found in other premium retailers including FAO Schwarz.
Designed for children aged 4-to-8 years old, Tiggly Words is the company's first learning system for early literacy. Tiggly Words is a set of five vowel toys (a, e, i, o, u) designed by educators to interact with Tiggly's three new iPad apps: Tiggly Submarine, Tiggly Tales and Tiggly Doctor. Learning language skills is an exciting milestone for every child, and Tiggly Words focuses on helping preschoolers recognize phonemes, construct sounds and learn words.
"All of Tiggly's learning systems are designed from the ground up based on the first principles of play and learning research," said Dr. Azadeh Jamalian, Chief Learning Officer and Co-Founder of Tiggly. "We know physical play is an integral part of children's development and with the launch of Tiggly Words, we now have three products that bring that physical play into children's digital sandbox."
Tiggly provides children with ways to interactively learn spatial reasoning, motor skills, language and creativity by combining physical toys with the tablets children love. Tiggly's math learning system has already proven to improve educational outcomes in preschoolers. A recent study by PlayCollective, an independent research firm specializing in early childhood development, showed increases in early number skills of up to 71% for kids who played with Tiggly Math for only 2 weeks.
"We are delighted that more and more retail buyers are putting our learning products on their shelves – a sign that our products form part of the future of play," said Phyl Georgiou, CEO and Co-Founder of Tiggly. "We are excited to partner with Target and Best Buy Canada to bring our three products to more stores which allows us to reach new customers and expand the Tiggly community."
For photos of Tiggly in play and screengrabs of the apps, please visit this Dropbox.
Tiggly's learning products are available for $29.95 each. Each product includes a set of toys and 3 free apps that are compatible with the toys. For more information about Tiggly, visit: http://tiggly.com.
About Tiggly
Tiggly is a New York-based company that's developed a learning platform of interactive toys and apps for the digital generation. Tiggly enables parents to bring physical play, a critical component of early learning, to the "digital sandbox" today's kids inhabit. Tiggly was founded in 2012 by Harvard Business School graduates Phyl Georgiou and Bart Clareman, and Dr. Azi Jamalian, an Adjunct Assistant Professor in Cognitive Studies in Education at Columbia University. Tiggly's learning journey includes three products – Tiggly Shapes, Tiggly Math and Tiggly Words, which are available in over 1,585 retailers in more than 20 countries.