Welcome to the Get Fit with LightStep Giveaway
Sponsored by: Light Step
Co-Sponsored by: Heart Felt Natural
Hosted by: Mom Powered Media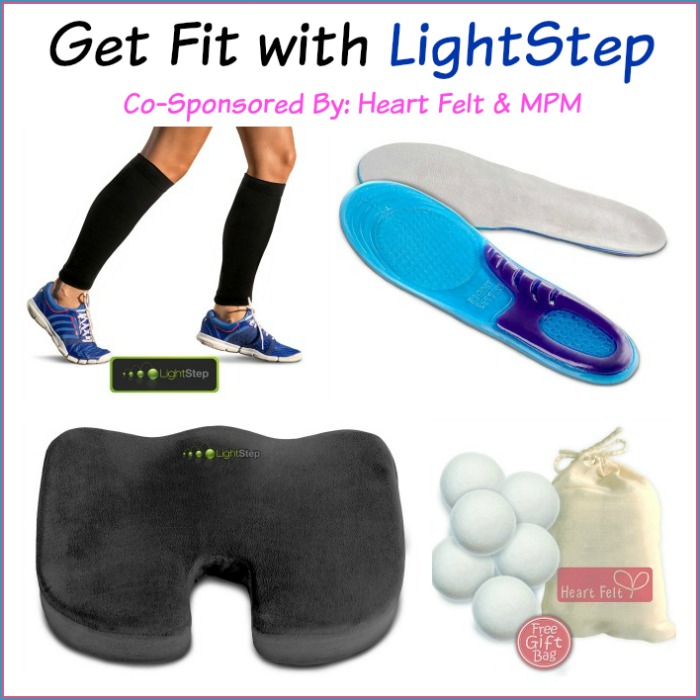 LightStep Orthotics, Insoles and Compression Wear are designed to boost your performance, recovery and comfort. Whether training, working on your feet all day or in recovery mode after exercise or an injury we have the ideal products to help you get back on your feet. Their specialty is feet, ankle and calf support and our premium products are made with advanced materials to optimize your performance and recovery.
Achieve the best performance or recovery you can and trust LightStep will have you back up on your feet in no time!
Six Wool Dryer Balls By Heart Felt
100% Natural Wool balls are handmade with pure New Zealand wool to the core
A PERFECT BABY GIFT- Essential for cloth diaper drying and a perfect gift set idea for a new mom or at a baby shower. Helps busy moms save time and money and naturally soften cloth diapers
Hypoallernenic – Durable for 1500+ washes.
Naturally softens laundry with no cost or synthetic chemicals from PVC dryer balls, fabric softener or dryer sheets
Eco-Friendly , so cost-effective.Reduce drying time by 30-40%- saving you time, money and the environment.
Calf Compression Sleeve By Lightstep:
True Graduated Pressure massages fluid back up to the heart for best oxygenation for top performance
Helps ease the pain and prevent shin splints, varicose veins and swelling.
Pregnant women, running and other sports people need these to keep going longer and boost results
Faster recovery means a more ambitious training schedule and better results, less injuries and fatigue
If sedentary, immobile, travelling or commuting a lot, these help keep circulation flowing to avoid DVT and clots.
Shock Absorption Sports Insoles for Women
Get More Bounce- Run and Train Harder and Faster When you know your feet are protected
Trim to fit your favorite shoes perfectly- can go in any shoe or boot.
Support for heel and heavy duty shock absorption across the foot helps reduce fatigue and prevent injury.
When out and about on your feet all day these are perfect to give you a boost
Designed for Women, this insole is lightweight and helps align ankles, knees and hips to reduce strain and injury risk.
Medical grade foam for OPTIMAL back support. Correct alignment means less aches and pains!
Ideal for sciatica, haemorrhoids, lower back pain as your hips and lumbar region are perfectly positions on the chair. Excellent for arthritis. Many pregnant women find it helps lower back pain.
It's very versatile:Ideal for desk, office, wheelchair cushion, plane or other travel, car seat cushion, church pew and more.
Soft grey washable cover is perfect on any style of chair.
Takes pressure of coccyx and tailbone. Also improves posture and circulation to limbs so many health benefits to sedentary workers and the elderly.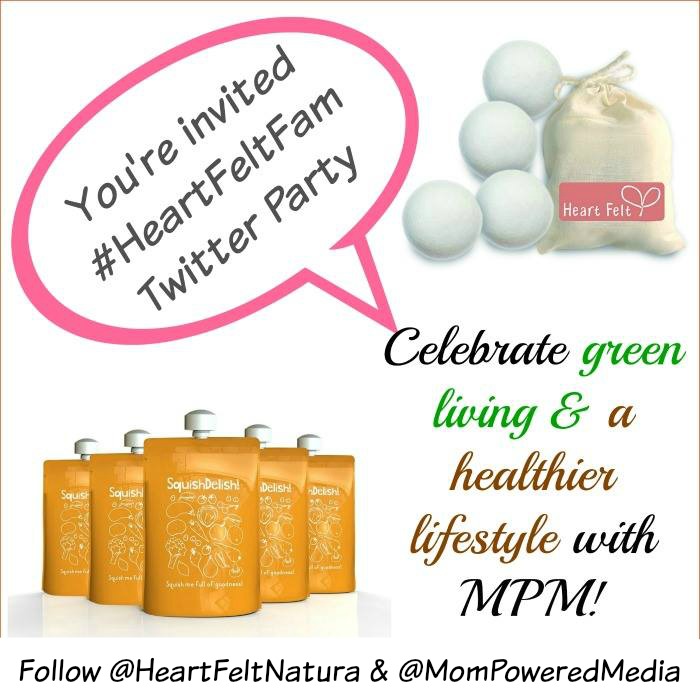 As an extra bonus Mom Powered Media wanted to remind you about Heart Felt Natural's Twitter party coming up March 20! Click HERE for more details. ($300+ IN PRIZES!!!)
Join us for a #HeartFeltFam Twitter Party to celebrate green, healthy living with Heart Felt Naturals and MPM!
Date: Friday, March 20th 2015
Time: 1:00 pm – 2:00 pm EST
Brand Expert: @HeartFeltNatura
Hosts: @MomPoweredMedia & @MDefined
Co-Hosts: @darcibean, @CanNUSAWinNSave, @determineddiary, @ourpieceofearth
Hashtag: #HeartFeltFam
Prizes:
• Grand Prize: Heart Felt Prize Package worth $300+
• Additional Prizes: Four Heart Felt Prize Packages containing Wool Dryer Balls + Squish Delish
Thanks to LightStep and Heart Felt Naturals, one fan will be receiving all of the products stated above (including: Six Wool Dryer Balls By Heart Felt, Calf Compression Sleeve By Lightstep, Shock Absorption Sports Insoles for Women, LightStep Orthopedic Cushion – RV $97.91)
Giveaway Rules:
Open to US only
Ends April 2, 15
Ene person per household can enter
Winner has 48 HOURS to claim prize or a new winner will be chosen