The Kid'Sleep Moon is part of a line of sleep training and time teaching/time organization products invented by a father of 6!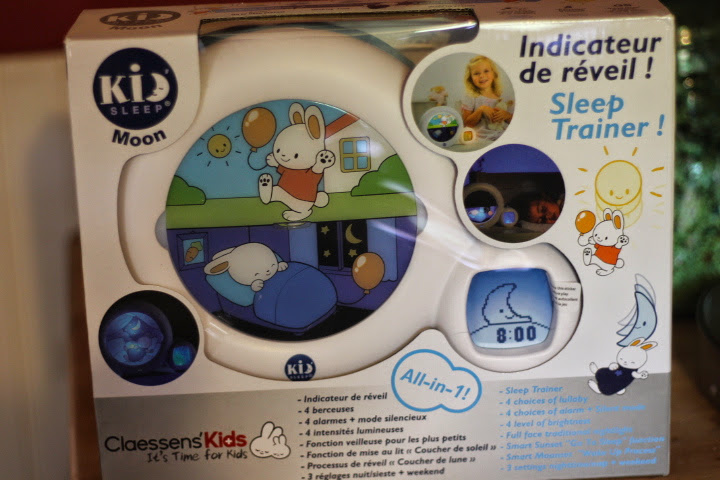 The Kid'Sleep Moon has many benefits, as a sleep trainer and night light for young children and an alarm clock for older children. It helps young children have an understanding of when it is time to get out of bed and when it is not. It is a great tool for nighttime self regulation, and the result is that both parents and children get more sleep. The Kid'Sleep Moon helps kids stay in bed until it is time to get up. If the sleeping animal is lit, kids know to stay in bed. When the awake animal is illuminated, it is okay to get out of bed and start the day. Kids naturally relate to the sleeping or awake animal. Color recognition is not required.
The Kid'Sleep Moon has 3 settings for nighttime, nap and weekend, 4 choices of alarm sounds (or the choice of no alarm), and 4 levels of brightness to choose from. The Kid'Sleep Moon helps children fall asleep with 4 different choices of lullabies. The Kid'Sleep Moon also offers the Smart Sunset "Go To Sleep" function and the Smart Moonset "Wake-Up Process", which gives kids a 10 minute warning for sleep time and get up time! The Kid'Sleep Moon has a new menu for very easy setting!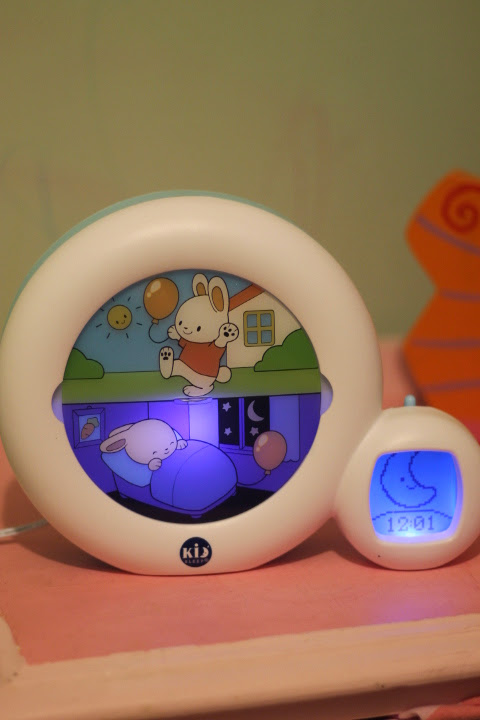 Bedtime and staying in bed are a constant battle in my house.  We have co slept for years and now that my daughter is 3 1.2 it is definitely time for her to transition to her own bed.  The problem is that she is not even slightly interested in being in there-despite a big girl bed, big girl bedding, and even allowing her to watch a little TV in bed before lights out doesn't keep her down for longer than 5 minutes.  The problem being that watching TV is not conducive to sleeping, their little mind is racing, the overly stimulating colors and sounds do not allow their bodies and minds to settle and drift off.  So eventually I just give in, I know I shouldn't, but there it is I am a mom of two who gives in for the sake of some sleep myself-which translates to a little elbow jammed in my ribs and a foot in my ear so…. not really good sleep.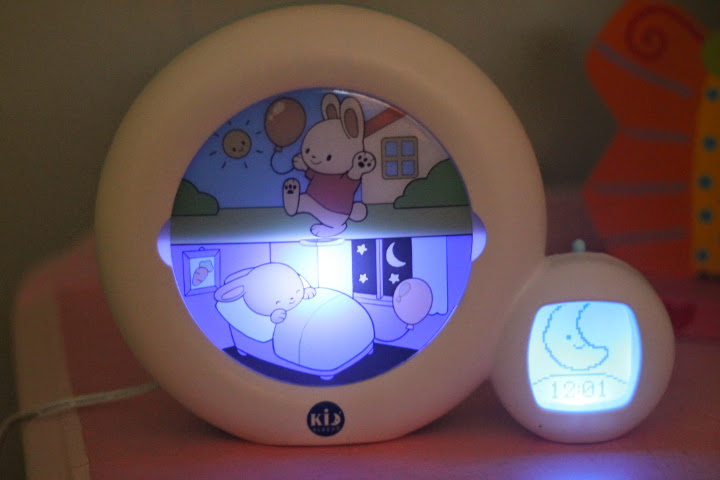 We knew we had to do something and I received my Kids Sleep Moon right about the time we came to this conclusion so I was pretty anxious to give it a try. I opened the package to  take a better look and saw just a simple device with muted colors and graphics-which is the idea I believe to soothe instead of simulate.   I was worried that since was not covered in bright, well known cartoon characters that she would not be interested but she loved it and couldn't wait for it to be set up in her room.
We gave it a try after explaining what it was for, how it worked, etc. I told her that she must stay in bed when the bunny was in bed (lit up) and when he was up she could get up and come out of her room. The first night she still wound up in our bed by 10 am. The several nights were variations of the first but are getting a little better. She loves having her own alarm clock, and while we are definitely not there yet, I can see that with continued use and consistency I can use this to get her in her own bed for the whole night.
I would recommend this as a tool for sleep training your child from birth to preschool years.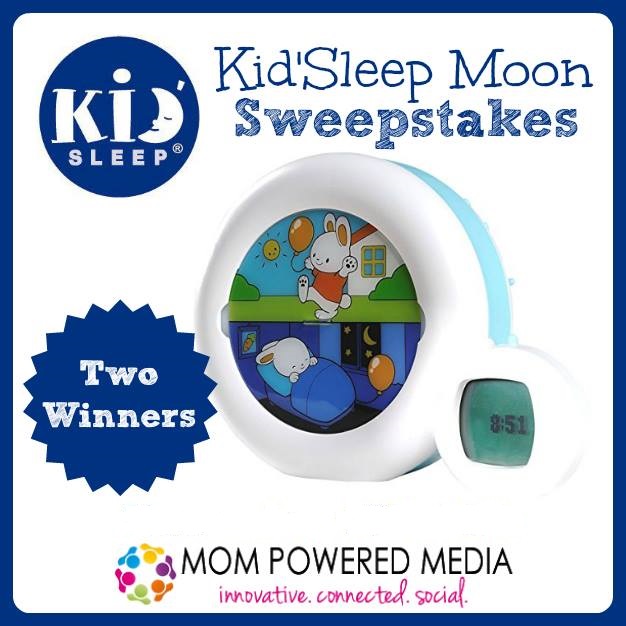 Two winners will receive a Kid'Sleep Moon.
Giveaway ends December 3rd at 11:59pm, open to US residents, ages 18+. Only one entrant per household, per address. Winner is subject to eligibility verification. Enter using the giveaway form below. Good luck!